Dubbed one of the most innovative farmers in the world by Time Magazine, Joel Salatin proves that holistic management and regenerative agriculture are the best way to build a successful and viable agricultural entreprise.
« The best ecology is what makes the best economy »
– Joel Salatin
On their 220 hectares farm in Virginia, Joel and his family develop coherent systems of pasture management to raise beef, porc, chicken, rabbits and turkey for their 6 000 private clients, 50 restaurants and 10 shops. Author of twelve books and relentless speaker in conferences around the world,
Joel Salatin shares the keys to his success so it can be replicated by all.
 Join him on May 5-7th 2019 for a three-days Masterclass organised by Coume Sourde Farm (Aude, France).
PRESENTATION
Joel Salatin's agricultural philosophy is based on the growth of a nutrient-rich grass on which animals can thrive in a symbiotic food cycle without chemical products. Cattle is regularly moved from one pasture to the other rather than fed corn. The chickens follow them in their "Egg-mobile" to scatter dung and the nutrients they contain, and to eat fly larvae. The pigs aerate compost and forage their own acorn-based food in the forest.
This intensive agricultural system, based on multi-species synergies (humans includes), produces more per hectare than the industriel system. Add to that the development of a dense local community of clients with direct marketing, and you get the recipe for a profitable agricultural entreprise which offers an unrivaled quality of life.
"We want prospective customers to find farms in their areas and keep the money in their own community. We think there is strength in decentralization and spreading out rather than in being concentrated and centralized.«  – Joel Salatin
See a longer video by following this link.
Thanks to this "more than organic" approach, Joel Salatin managed to restore the degraded ecosystem of this farm bought by his parents in 1961.
 Today, Polyface Farm employs no less than ten people and has an annual turnover of over a million dollars.
In this 3-days Masterclass,
Joel Salatin will get down to the nitty-gritty of his agricultural system and entreprise, with a very hands-on approach
. You will learn concretely how Polyface is structured, how each production works individually but also how they symbiotically function together. The Masterclass will tackle a wide array of subjects, from pasture and fertility management to water systems, finances, access to land, livestock strategies, electric fencing, staffing, relationship marketing, on-site processing, portable low-cost infrastructures, and much more.
"Healing the land, healing people and healing the community" – Joel Salatin
CONTENT
Over the course of two days, Joel Salatin will get down to the nitty-gritty of his agricultural practice at Polyface, whilst tackling with you how you can adapt his practice to your own situation. On the third day (free and optional), you will be able to see Polyface's principles in  action with a field tour of Coume Sourde Farm (morning).
Joel draws inspiration from – and works with – nature to produce, never forgetting the profitability goal on any agricultural entreprise. His learnings are filled with hands-on advices on how to save time, save human energy and building a thriving entreprise.
He will cover, amongst other things :
SALAD BAR BEEF : his practice of intensive pasturing ; grass and livestock management ; mobile electric fencing.
PASTURED CHICKEN : brooding ; housing ; feed ; on-farm processing ; as well as common slip-ups and mistakes and how to fix them.
PASTURED EGGS : portable housing ; building an egg-mobile ; brooding ; paddock rotation ; dealing with pests and predators.
PASTURED PIGS : using pigs to aerate compost and regenerate pastures and forests ; housing ; mobile fencing strategies ; feed ; pig handling.
RELATIONSHIP MARKETING :
his successful "radical transparency" approach to direct marketing
how they approach the story of their products to inspire and create long-term, committed customers ;
 the strategy and setup of their direct-to-consumer metropolitan buying clubs and on-farm shop.
He will also cover exhaustively the following topics : soil and soil health, rabbit production, forestry, water management, composting (and, more generally, fertility management), as well as how all these elements function together at a systemic level.
The last half-day will be dedicated to a field visit of Coume Sourde Farm which gets inspiration from Polyface's system and regenerative farming. Joel will draw on this example to go from theory to practice.
At any time, attendees are welcome to ask questions, be they generic or related to their own activity. 
« Joel Salatin doesn't exploit the land, nor the animals, nor humans. On the contrary, he offers to allow them all to give their best, and to unite each and all's own abilities in a permanent synergy. Just like a conductor, he invites the earth, the trees, animals and humans to collaborate in a unique symphony where each has a place… including the final consumer whom, by his endorsement of the philosophy, enables the enterprise to prosper and persist.
Joel Salatin is an imagination catalyst anchored in the pragmatism of a family's patriarch – one could even say of a good housewife who only spends what she has and allows nothing to go wasted. For him, transition starts right now and never ends since it opens up to possibilities impossible to predict. The originality of his proposal is that it can be applied everywhere and, even, for everything. »
Preface to the French version of his best-seller « You Can Farm »
PRACTICAL INFORMATION
The Masterclass is in English, but a simultaneous translation to French will we offered by our hosts.
The Masterclass starts on Sunday, May 5 at 8.30am and ends on Monday 6 at 6pm. If you wish to stay for the farm tour on the 7th, it will end at noon.
Reception is available from Saturday afternoon. 
ACCESS
The Masterclass is hosted in Rennes-le-Château (11190), at Coume Sourde Farm.
Address : Coume Sourde (lieu-dit), 11190 Rennes-le-Château.

   BY PUBLIC TRANSPORTS
Nearest TGV station : Carcassonne
Then bus in the direction of Quillan, or TER train in the direction of Limoux followed by bus in  the direction of Quillan ; stop at Couiza – Montazels station.
TER Train / Bus schedule from Carcassonne to Couiza-Montazels for Saturday May the 4th :
SCHEDULE
TRANSPORT TYPE
DURATION
08h05 => 09h07
 – 

TER Bus towards Quillan, stop at Couiza-Montazels

1h02
09h15 => 10h21
 – 

TER Bus towards Quillan, stop at Couiza-Montazels

1h06
10h36 => 11h41
 – 

TER 

Train to Limoux, followed by TER Bus towards Quillan, stop at Couiza-Montazels

1h05
14h15 => 15h17
– 

TER Bus towards Quillan, stop at Couiza-Montazels

1h02
17h28 => 18h29
 – TER Train to Limoux, followed by TER Bus towards Quillan, stop at Couiza-Montazels
1h01
If you are coming with public transports, you need to arrive on Saturday the 4th (there are no available transports in the morning to make you arrive on time on Sunday the 5th).

   CARSHARING
We invite all participants who wish to come by car to register their travel on the carsharing platform dedicated to the event : https://www.togetzer.com/covoiturage-evenement/xktkam
All participants who do not have a car are also invited to check on this website if a car is not departing from nearby their starting point.
This will allow you to share the costs, and the event to cut on its carbon emissions !
HOUSING
Ribambelle offers options of collective housing. You can book your housing directly on the registration platform, at the same time as your access to the Masterclass. You can choose housing+breakfast and dinner separately or together.  Please book the relevant number of days.
For logistical practicality reasons, we warmly advise participants to stay at Ribambelle. If however you wish to have a room of your own, and you have a car (compulsory), you can find a list of nearby lodgings here : https://www.rennes-le-chateau.fr/hebergements/. Important : you then have to take care of the lodging booking yourself, without the help of our ticket counter. In any case, lunches are included in the price of the Masterclass.
TICKETS
The Masterclass costs 150€ / day, so 300€ for the two days. This price includes all lunches. This contribution is solely to cover the costs (travel and fee of Joel Salatin, meals and organization of the seminar).
Housing (supper, bed, breakfast) must be booked separately. If you wish to lodge at Ribambelle, you can book your stay directly below.
Non-refundable. The selling platform Weezevent will provide you with an invoice.
For all additional information concerning tickets, please click on the « i » on the right side of the relevant ticket.
CONTACT
If you have any questions, you can write to : camille.atlani@agroecologies.com
Please indicate your first and last name, as well as a phone number you can be contacted on.
This Masterclass will focus on the what, why and how of the agricultural practice, and is therefore primarily targeted at farmers and other agro-entrepreneurs. This workshop can however be of interest to  researchers, teachers, students, rural developers and others engaged in food system transition.
On the evening of the last day, Joel will give a conference open to all, which we be followed by an organic and local dinner on the farm. For more information, click here.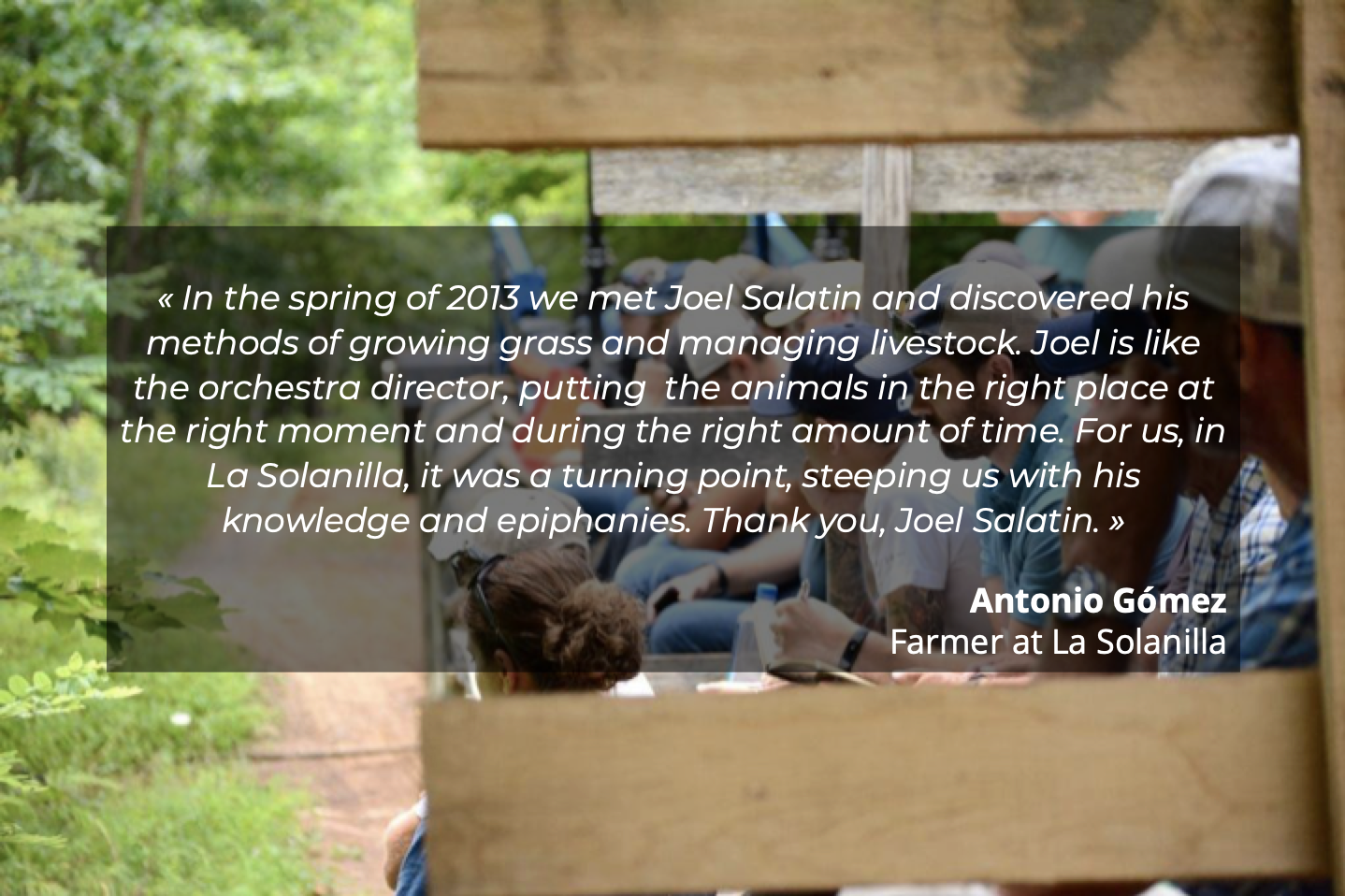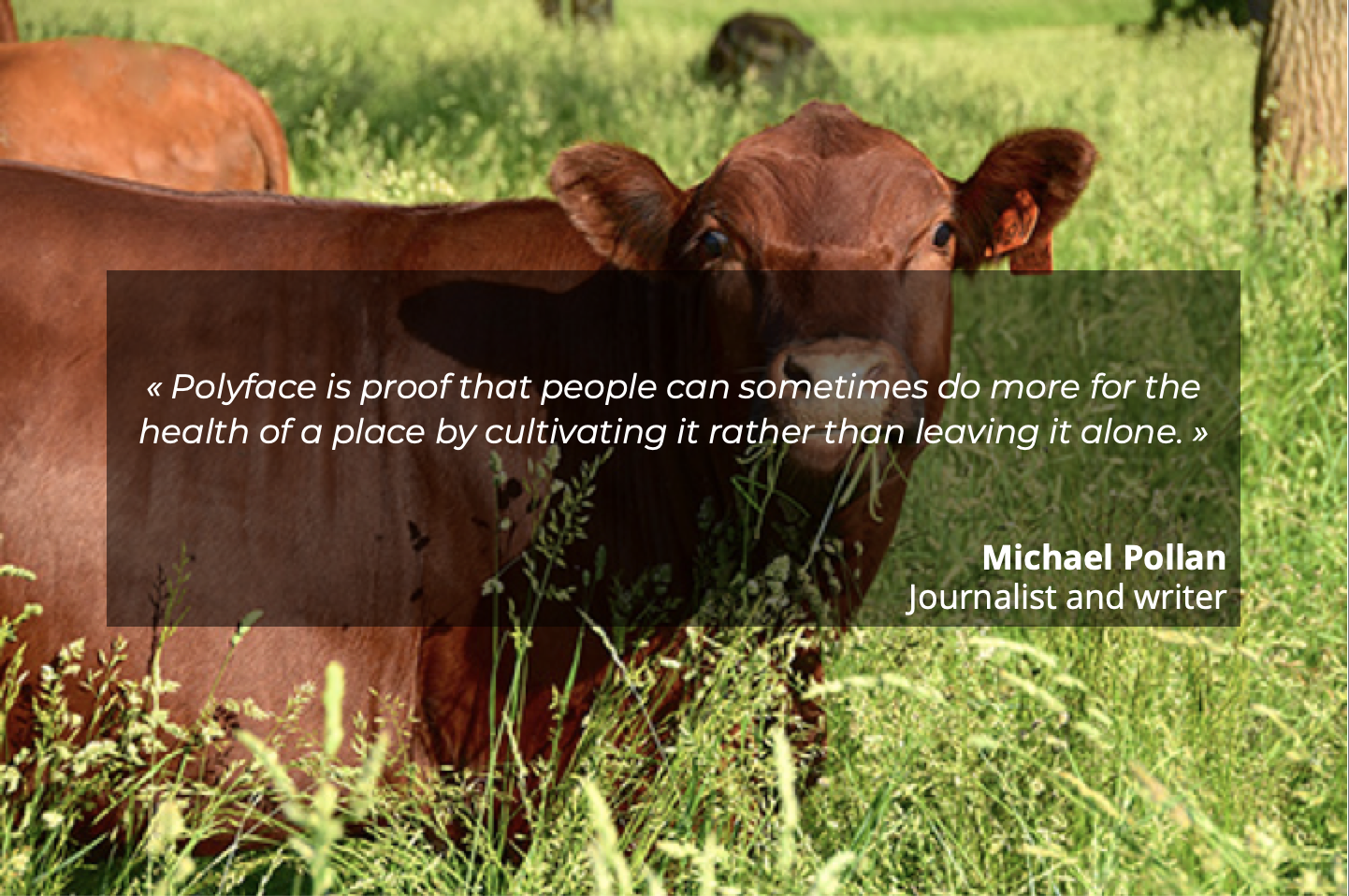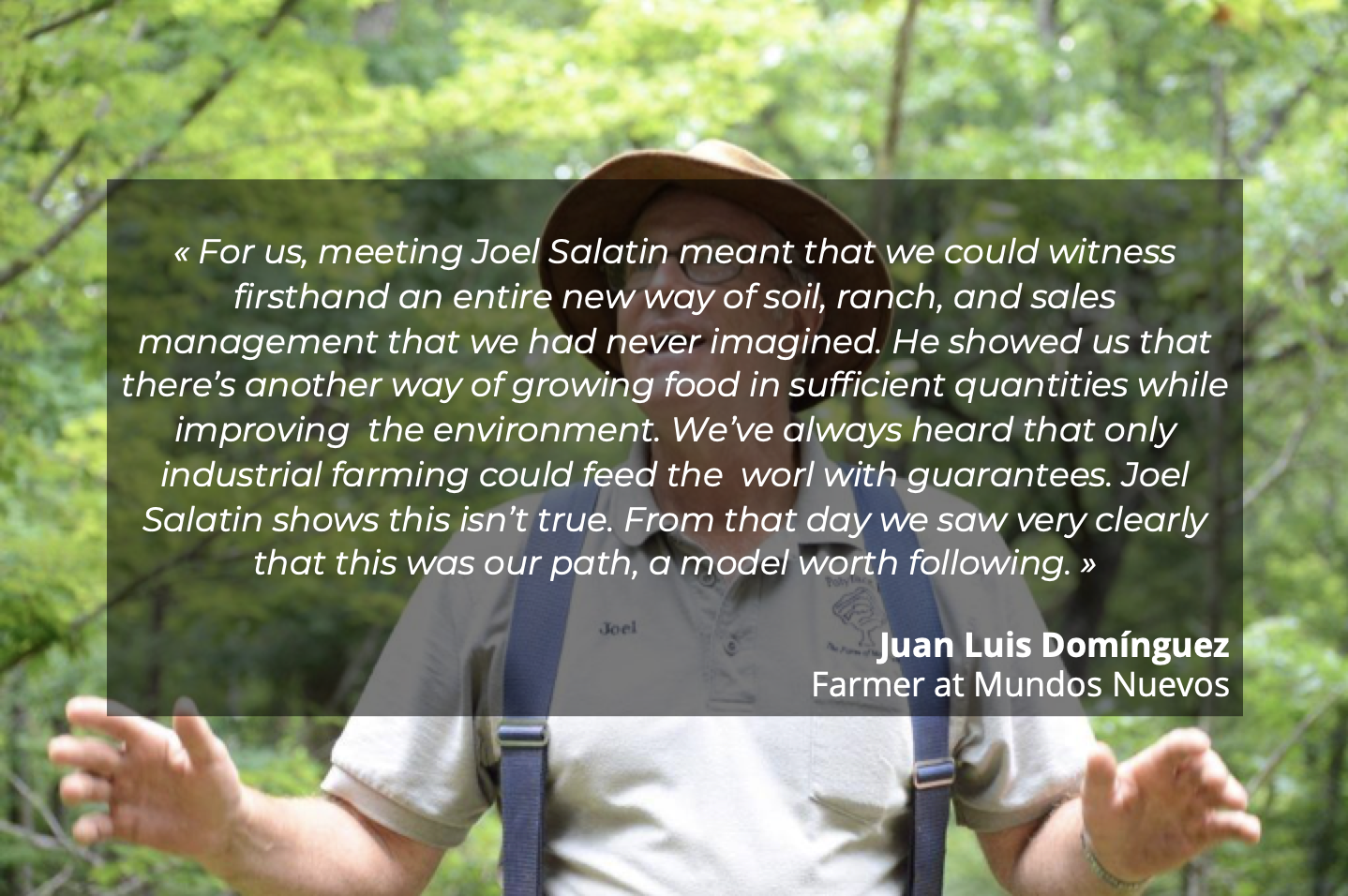 High in the Mediterranean Pyrenees (at an altitude of 505 meters), Coume Sourde farm's mission is to produce meat and eggs in respect of the animal and its environment, while regenerating the soil and the ecosystem. After three years of intensive application of Polyface's principles on livestock and soil management, the results are there …
To discover with Joel's take during this training.